Alright, well I sorta stopped slacking around here and actually got around to cutting and cleaning up the bucket.
Cleaned up things and bondo'd the holes here and there. Just ran into a minor problem.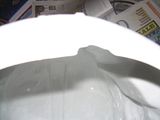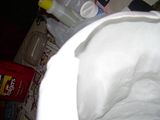 There's a little chip on the rim here, and the rest should probably be reinforced. Any advice on the best way to fix this? As for the rest I was just thinking of running bondo on the inside to make it a little stronger.
Also, as for the mic tips and ear thingies (for the lack of a better term) what's the best way to attach them?